The Wonderful Wardrobe
classes
Where will your imagination take you today?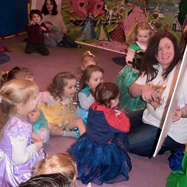 The Wonderful Wardrobe pre-school classes will take your child on a magical, musical journey where imagination has no limitations. Each hour-long session includes 45 minutes of structured activity, where friendly puppets the Magical Fairy and Pirate Pete will guide your child through a world of adventure.
Fully-trained staff encourage dressing up, singing and dancing to action songs, rhymes and music, as well as using props including puppets, balls, hoops, ribbons and parachutes to enhance creativity and coordination.
It's then time for 15 minutes of relaxed free play; playing with the puppets, for example, exploring the instruments, or a creative task such as making a treasure chest or drawing a picture.
The classes, held across South East Wales, are designed to take into account each child's age, personality and skills, so that they can participate as much or as little as they want.
You are welcome to attend The Wonderful Wardrobe pre-school classes on a drop-in basis. However, numbers are limited and priority is given to those who book for the term. Committing to a course of sessions is also the best way to see your child grow, as they explore their creative and musical sides.
Classes are held in Cardiff and Cowbridge, and you can book online and pay by PayPal, debit or credit card; or book online and pay in person by cash.
If you'd like to know more, please get in touch. Classes are currently running at the following venues:
The venues our classes are held at